About Chun Yu Plastic
Contracted Manufacturer of Premium Quality Gift Wrapping Paper - Chun Yu Plastic Enterprise Co., Ltd.
Start
1996, 5 friends decided to found their own company, Chun Yu Plastic, a factory printing and converting gift wrapping paper after working years in printing enterprises. The factory only produced gift wrapping paper and bouquet sleeves for Taiwan local market in its first year. Chun Yu Plastic built company website in the following year and started receiving inquiry from overseas customers via internet. This is the beginning of direct exporting of gift wrapping paper.
Understanding Customers
In each communications, we listen carefully to our customers in order to understand their needs. We have learned customers expecting quality, service and competitive prices to satisfy their clients. Consumers' satisfaction is the only path leading to prosperous long-term business and our company and our customers are sailing on the same boat and thrive mutually if we support our customers in all aspects. In order to support our customers in all ways, Chun Yu Plastic runs company with four core principles: superior quality, well-trained service team, ever-stopping investment on equipment and competitive prices. And herewith how we carry out our principles.
Taking Actions
To improve quality, the shareholders have been continuing inputting on not only bringing in up-to-date but also upgrading existing press machine and flower sleeve machines. The machine enhancement helps to achieve photographic level and consistent printing quality.Besides printing quality, we also introduce throughout line inspection system to zero faulty production packed and shipped.
In order to fulfill diverse projects from worldwide customers, whole sales team are well educated and continue learning knowledge about substrates, ink, printing and related information of gift wrapping paper and flower sleeves bags.Also the all employees in production departments are receiving continuous training of production. We stay closely with our suppliers to acquire the latest technology of materials and press system. Our education enables our team to work on and assist any types of projects customers desire.
How to keep sharp and competitive is one important task while wages have been rising continuously and dramatically. In Chun Yu Plastic, each departments has been requested to keep records and exam data monthly. Correction or promotion plans must be presented and carried out to reduce any waste and faults in every process.Along with re-managements in production lines, our investment on upgrading and adapting faster advanced machinery has been increasing to bring higher output. The benefits from improvement reflect on our prices to customers!
Chun Yu Plastic is not only the reliable suppliers of quality gift wrapping paper and flower sleeve and flower bags but also a responsible enterprise to society and environment.Our company is FSC certified (FSC™ C108999) and able to print gift wrapping paper made of FSC™-certified and other controlled material.We also acquire SGS social compliance audited as a society care firm.
Keeping Moving
With deepest appreciation in mind of supports from our customers, today, Chun Yu Plastic is one of the biggest manufactures of giftwrap and flower wrapping products in the world. There is no rest of our hardworking and we are looking forward to moving on together with our customers in the future.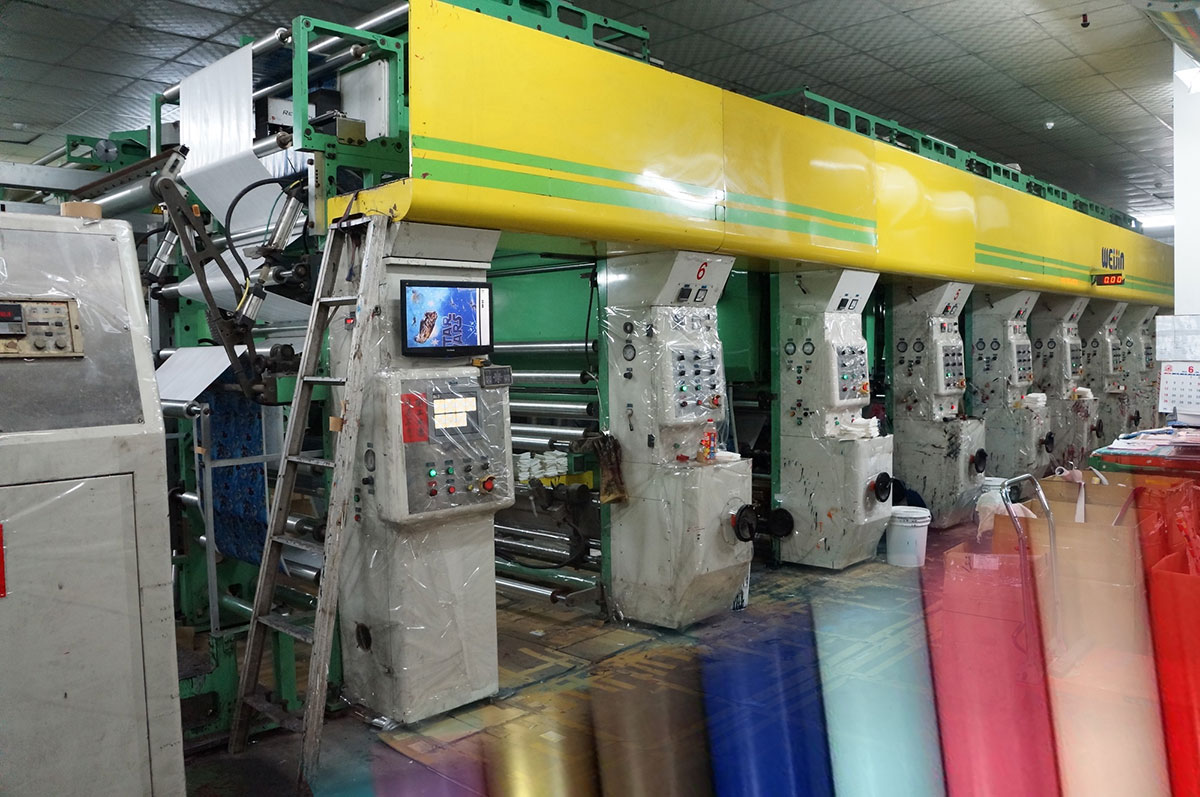 Up to 6+1 colors high quality gift wrapping paper printing machine
Certificates