Factory, Equipment & Quality
Factory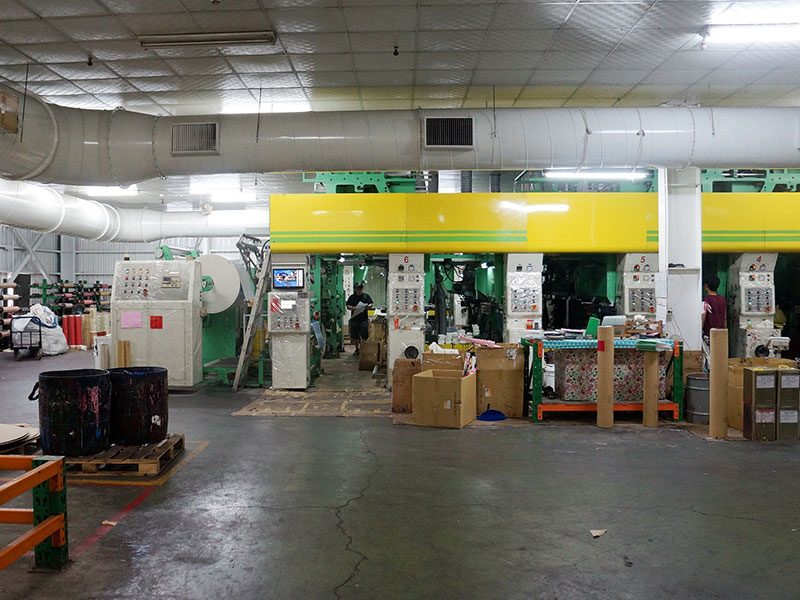 Superior technology equipped press machine
(printing machine) can print gift wrapping
paper with maximum up to 6 Color + 1 Color
Established in 1996, our factory started the business with gift wrapping paper. Employers and employee were from printing industries. The primary products were cellophane paper (or called bopp) and metallic paper (metallized opp) for local market. We soon became the biggest supplier of gift wrapping items in Taiwan. The company began direct exporting in 1998. With high appreciation to our customers, we are now the leading manufacturer of gift wrapping paper.
In order to fulfill the growing orders of flower bouquet sleeves and plant sleeves, we built second production line in 2004. This production line is to produce flower bouquet and plant sleeves and flower packaging for flower growers and floral traders. Now we are one of the biggest flower bouquet sleeves and plant sleeves manufacturers in the world.
Equipment
Our company has perceived the necessary to promote our technology and quality to even higher printing level quality to satisfy customers, and been upgrading our equipment throughout years. Today, in the factory, we own 4 gravure printing machine, 3 rewinding machines for jumbo rolls, 2 fully-automatic converting machines (Elsner newest model) for consumer rolls (or called small rolls, retail rolls), 4 semi-automatic converting machines to make consumer rolls or counter rolls (ream rolls). We are able to print maximum up to 5 colors on the front side & 1 color on the backside. (More color is possible by case). We are capable to print 400,000meters per day. A higher capacity is possible under discussion.
Our production line of flower bouquet sleeve and plant sleeves owns flower sleeve forming machines and printing machines. These machines carry grand capacity. The up-to 8-color printing machines can print sleeves with growers' name, logo and color. BOPP and CPP sleeves are available. Flower sleeves can be with special specifications such as top cut, air holes, vent-holes, hot-needles, micro-punch, bottom seal or etc. Fast delivery time is possible for volume or urgent orders. We are contracted manufacturer of world biggest flower growers.
Quality
Our standpoint is to create mutual benefits for our customers and our company and to delight our customers. We understand the key of thriving business to our customers is good and consistent quality products. Only qualified products can go, so we adapt quality control throughout the procedures. In our company, the quality control starts from the time we purchase materials. We are working with suppliers with long reputations of quality materials. Our paper is only from esteemed paper mills. The fine coating can create photographic standard printing quality. Our ink passes all latest CE & ROHS standards excluding harmful ingredients and suitable for all wrapping purposes. Our paper cores are made of new & fresh cardboard and not crashed to protect the paper wound on the core. Products packed by experienced workers into high pressure resistant cartons promise completed protection to gift wrapping paper and prevent damage during transportation.
Majority employees have been working for Chun Yu Plastic for more than 15 years. They are well trained and skilled. All delivered raw materials is carefully inspected by our warehouse people to ensure correct quality of raw materials is received. Through-line quality control is implemented when production procedures starts. We have online and built-in registration check equipment to check if design is in registration. Wrong quality gift wrapping paper is marked by printing department and discarded during the following rewinding procedure. Well-packed gift wrapping paper is stored on pallets to prevent collapse and damage. Pallets then stored in our large and tidy ready-to-go area for shipping.
It is our privilege that our company is the most favorite supplier of gift wrapping paper and plant sleeves to many famous department stores, chain stores, retailers and flower growers around the world. We are continuing our hard work.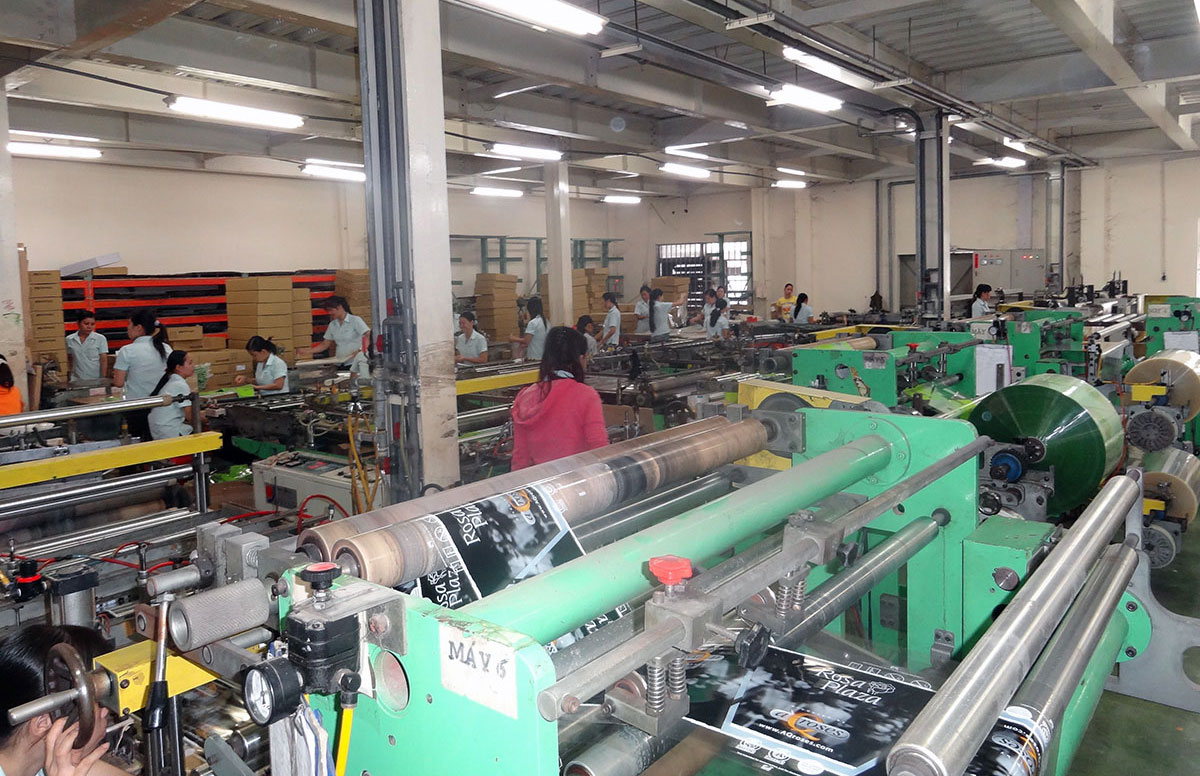 Sight of flower sleeves production line.
Gallerys