Cellophane BOPP Film With Design Printed Gift Wrapping Paper
CYP01
Cellophane wrap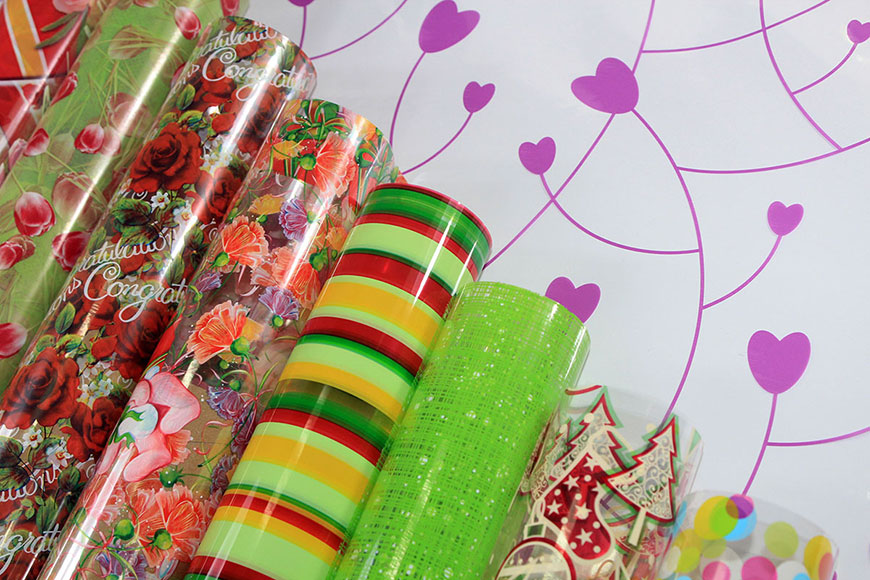 Cellophane BOPP Film wrap with design pattern printed in roll and sheet for gift wrapping and flower packing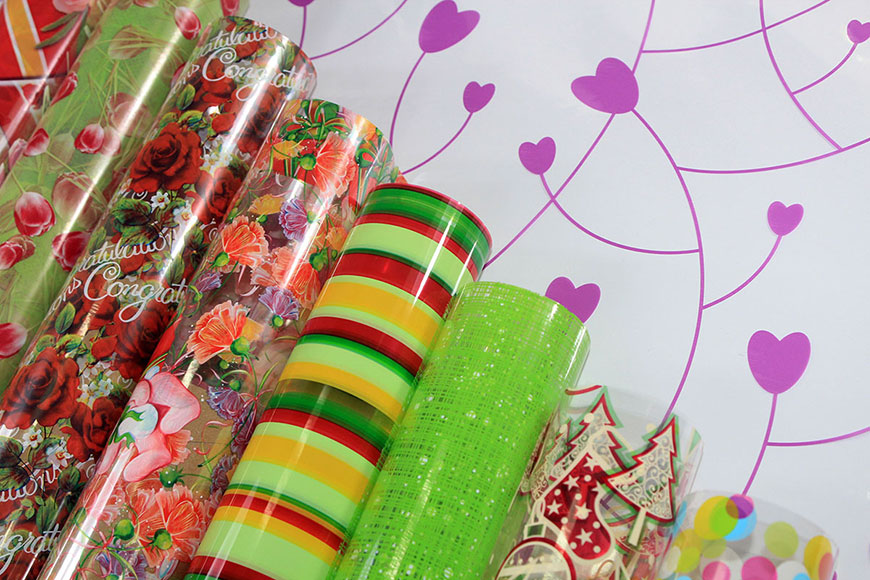 Our printed Cello BOPP film gift wrap is food safe grade. Crystal clear cello printed with beautiful patterns and designs is perfect wrapping paper to arrange gift baskets and party trays. Chun Yu's printed BOPP film is ideal item to wrap presents, toys, cookies, candy, sweets, treats and homemade gifts. We not only have wide collections of baby, girls, boys, universal patterns and Christmas designs you are looking for but also offer custom logos and designs printed cello wrap.

We supply printed cellophane in rolls & sheets in various sizes, thickness and packaging. Send the sizes and thickness you need and we will satisfy your demand.
Features
Food safe grade printed Cello BOPP film.
Gorgeous designs printed on clear Cello BOPP film.
Capable to print customize designs (OEM, ODM).
Reverse printing capability.
Useful item to wrap broad types of gifts.
Available in rolls & sheets.
Available in various sizes, thickness and packaging.
Sizes & Minimum Quantities
To satisfy different applications from different customers in different countries, our BOPP wrapping paper are available in various sizes. Herewith are some most popular sizes of Cellophane wrapping paper for reference.

The most common flat sheet sizes are 50*70cm, 70*100cm, 70*110cm, 20"*27.5", 27.5"*39.3". It is no problem to supply BOPP wrapping paper in other sheet sizes.

The most common consumer roll sizes are 70cmx5meter, 70cmx10meter. If is no problem to supply retail roll BOPP wrapping paper in other sizes.

The most common counter roll sizes are 70cmx25meter, 70cmx50meter, 70cmx100meter, 24"x417', 24"x833', 30"x417', 30"x833'. It is no problem to supply BOPP wrapping paper in other sizes
Related Products

---
Best Sale
Cellophane BOPP Film With Design Printed Gift Wrapping Paper Manufacturer | Chun Yu
Located in Taiwan, Chun Yu Plastic Enterprise Co., Ltd., since 1996, is a site::product::name_title | gift wrapping paper production manufacturer, offering gift wrapping paper, flower bouquet sleeve and plant sleeve with a up to 6+1 colors high quality gift wrapping paper printing machine to delivery the best. Gift and flower wrapping paper with top cut, air holes, vent-holes, hot-needles, micro-punch, bottom seal, name, logo and color and so forth.
FSC certified, trendy, and innovative wrapping paper including, wrapping papers and BOPP film bouquet sleev, name for Christmas, kids birthday, gift wrapping and packaging. High transparent BOPP films for all wrapping purpose with a wide range of color selections and mass production. They also supply inexpensive and strong wrapping paper that is primarily used for packaging purposes.
Chun Yu has been delivering gift wrapping paper and BOPP film in plastic packaging industry since 1996, both with high-quality material and high production capability, Chun Yu ensures each client's needs are met.