LWC Children Birthday Gift Wrapping Paper
CYP22
Kid Designs Printed LWC Gift Wrapping Paper for Children Birthday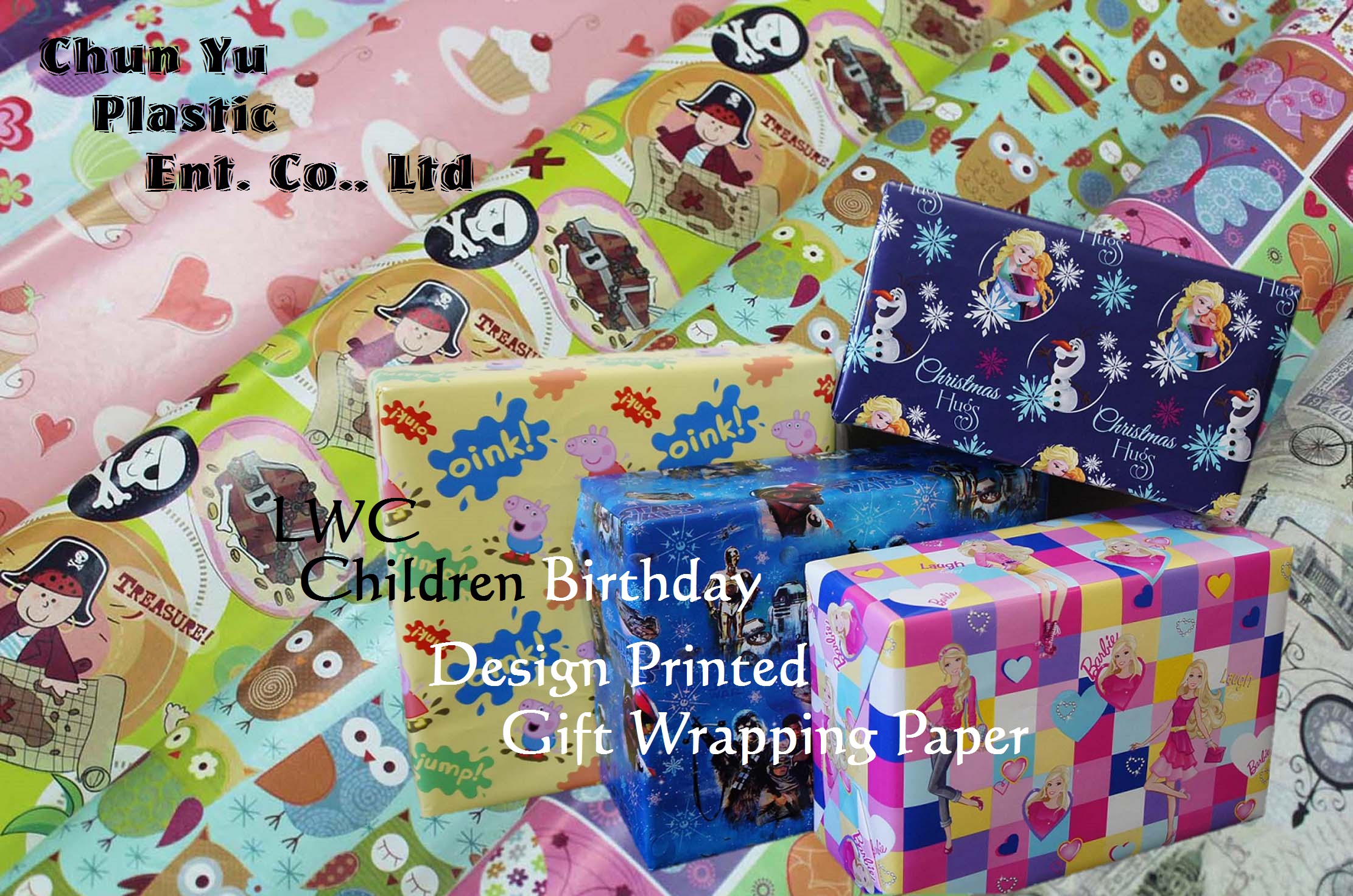 Our children paper covers designs from babies, boys, girls, teenagers, birthdays, parties, balloons to cartoon characters for selection. In order to get the best printing quality, we only buy first grade LWC paper from honored mills. We don't use lower grade quality or side-run paper from various unknown mills to avoid quality problems. Our LWC paper is with nice coating and in high whiteness.

The fine-coated LWC paper ensures an achievement of photographic standard printing quality. The color of our birthday gift wrapping paper is saturated and vivid. Our children paper has no yellowish or dirty look. We have been printing custom-designs and licensed designs since 1996. We create about 300-500 customized designs every year. The photos of children gift wrapping paper in our website are actual mass production from orders we produce for customers. There is no special arrangement to make special quality gift wrap for website.
Features
Social Compliance Audited Factory
Our company is consistent with Taiwan Labor Laws & Regulations and has obtained SGS Social Audit report.
FSC Certified Factory
We would like to reserve our planet for our future descendants. We are using more eco-friendly production method for printing. This new method dramatically reduces the emission of harmful substances.
Also, Chun Yu Plastic has acquired FSC certificate (FSC™ C108999). Gift wrapping paper made of well-managed FSC®-certified forests and other controlled material is available upon request.
We are the contracted printer to international famous gift wrapping paper dealers. Our customers include importers, distributers, chain retailers such as Walmart, Hallmark, John Lewis, JC Penny, Mastermind Toys, Hema and more stores around the world.
Factory open design gift wrapping paper
Besides children birthday designs, our company also provides gift wrapping paper with various design themes including Christmas, Chanukah, girl, boy, Valentine, wedding, floral and universal everyday occasions for selection.
Custom projects of kids and licenses designs
Our sales team has well knowledge experiences to work on your children gift wrapping paper projects if you are looking for giftwrap printed with your own kid designs. Our staffs know procedures of artworks, colors, inks and materials and are able to work on your own projects of gift wrapping paper. The engraving machine used to engrave cylinders/plates is German made and able to achieve photographic quality level.
If you are also looking for gift wrapping paper printed with different design themes, we also offer giftwrap with designs including
Christmas holidays gift wrapping paper
Birthday gift wrapping paper
Baby gift wrapping paper
Kid celebration gift wrapping paper
Everyday gift wrapping paper
Versatile occasion gift wrapping paper
If you like children designs printed on different substrates other than LWC paper, below are materials for your selection.
Metallic BOPP Children Birthday Gift Wrapping Paper CYP02
Holographic BOPP Children Birthday Gift Wrapping Paper CYP03
Metallic Children Birthday Gift Wrapping Paper CYP08
Holographic Children Birthday Gift Wrapping Paper CYP10
LWC Solid Color Printed Gift Wrapping Paper CYP22C
80gram Children Birthday Design Printed Gift Wrapping Paper CYP23
Natural Brown Kraft Children Birthday Gift Wrapping Paper CYP29
Paper Weight & Thickness
LWC gift wrapping paper is available in 60gram. Other paper weights such as 54gram, 57gram and other weight are possible.
Sizes & Minimum Quantities
Sizes & Minimum Quantities
There are no standard specifications of children birthday gift wrapping paper. Different customers need wrapping paper in different sizes. Below are several most popular sizes for reference.

Children gift wrapping paper in flat sheet:
50*70cm. The MOQ is 10,000sheets.
70cm*100cm. The MOQ is 5,000sheets.
Other sheet sizes are available upon request.

Birtday gift wrapping paper on small rolls:
70cm*1meter. MOQ is 10,000rolls per design per color.
70cm*2meter. MOQ is 5,000rolls per design per color.
70cm*3meter. MOQ is 3,400rolls per design per color.
70cm*5meter. MOQ is 2,000rolls per design per color.
Other roll sizes are available upon request.

Celebration gift wrapping paper on counter rolls:
70/76cmx50meter. MOQ is 200rolls per design per color.
70/76cmx100meter. MOQ is 100rolls per design per color.
30/40"x417'. MOQ is 80rolls per design per color.
30/40"x833'. MOQ is 40rolls per design per color.
Other roll sizes are available upon request.

The minimum order amount is us$5,000 per order per shipment. Less than US$5,000 orders are possible with extra charge to cover Taiwan domestic customs & inland charges.
Related Products

---
Best Sale
Kid Designs Printed LWC Gift Wrapping Paper for Children Birthday | Gift Wrapping Paper Supplier - Chun Yu Plastic Enterprise Co., Ltd.
Located in Taiwan since 1996, Chun Yu Plastic Enterprise Co., Ltd. is a Kid Designs Printed LWC Gift Wrapping Paper for Children Birthday supplier. Main products, including Gift Wrapping Paper, Flower Wrapping, Wrapping and Bouquet Sleeves. Gift and flower wrapping paper with top cut, air holes, vent-holes, hot-needles, micro-punch, bottom seal, name, logo and color and so forth.
FSC certified, trendy, and innovative wrapping paper including, wrapping papers and BOPP film bouquet sleev, name for Christmas, kids birthday, gift wrapping and packaging. High transparent BOPP films for all wrapping purpose with a wide range of color selections and mass production. They also supply inexpensive and strong wrapping paper that is primarily used for packaging purposes.
Chun Yu has been delivering gift wrapping paper and BOPP film in plastic packaging industry since 1996, both with high-quality material and high production capability, Chun Yu ensures each client's needs are met.