Model No.: Snowflakes CPP Flower Packaging Sleeve 14
CPP Flower Sleeves
CPP flower bags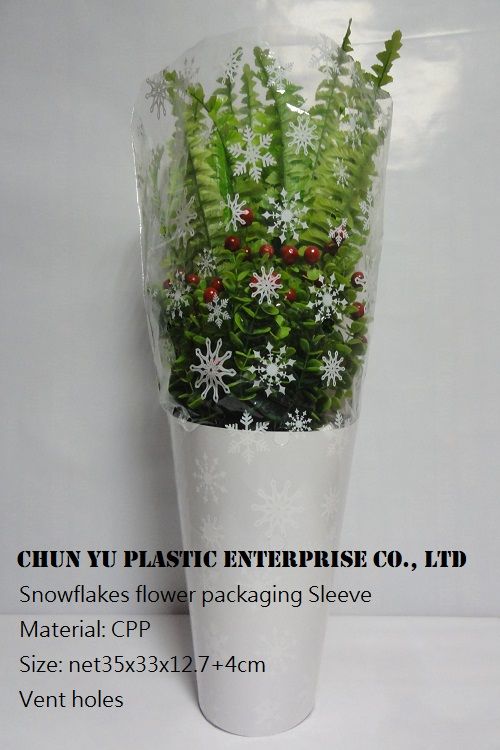 Above picture is our product model no.: CPP Flower Packaging Sleeve 14 (with white snowflakes).

This is flower sleeve made of CPP film. CPP film is the short name of Cast Polypropylene film. The film is with high extension and strong sealing quality. Known as ideal material to pack flowers and plants.

The sleeve is with vent holes so flower or plants could breath. The film is low static. Dust will not dirty the sleeve to keep packaging clean in shops.

Floral shops can use this flower sleeve to pack bouquets for winter season.
Plants growers can use this flower sleeve to pack potted plants for protection during transportation.
Features
Beautiful design printed
Strong sealing
Low static
Below is the drawing to present how to measure flower sleeve size
how you measure flower sleeve size
Sizes & Minimum Quantities
Flower Sleeve size
Net35x33x12.7+4cm
Sleeve is with vent holes for ventilation

Other material/designs/sizes/thickness are aviable upon request as we can produce flower sleeves
With your own design printed
With your farm/store/company logo printed
With Bottom seal
With hanging holes
With cardboard header
With Y shape finish
With micro-punched holes (hot needled mini holes)
With carry handle
Please contact with our company for your own sizes
Minimum Order
Related Products

CPP Flower Sleeves

---

Flower bouquet sleeves is also called polypropylene flower sleeves, CPP flower bags, plant flower sleeves, plant sleeves, cut flower wrapping, herb sleeves. Featuring superior strong sealing, polypropylene flower bags offer complete protection to plants, flowers and herbs. Our CPP plant bags have outstanding, photographic level and high color saturation printing quality. Sleeves can be supplied with special specifications such as unique shapes, air holes, micro-punched holes, bottom seal, carry handle, customize top cut shape or other demands customer may need.Chun Yu Plastic is contracted factory to produce custom plant flower sleeves for world largest growers of roses, lilies and other flowers.

---

---
Best Sale
CPP flower bags | Gift Wrapping Paper Supplier - Chun Yu Plastic Enterprise Co., Ltd.
Located in Taiwan since 1996, Chun Yu Plastic Enterprise Co., Ltd. is a CPP flower bags supplier. Main products, including Gift Wrapping Paper, Flower Wrapping, Wrapping and Bouquet Sleeves. Gift and flower wrapping paper with top cut, air holes, vent-holes, hot-needles, micro-punch, bottom seal, name, logo and color and so forth.
FSC certified, trendy, and innovative wrapping paper including, wrapping papers and BOPP film bouquet sleev, name for Christmas, kids birthday, gift wrapping and packaging. High transparent BOPP films for all wrapping purpose with a wide range of color selections and mass production. They also supply inexpensive and strong wrapping paper that is primarily used for packaging purposes.
Chun Yu has been delivering gift wrapping paper and BOPP film in plastic packaging industry since 1996, both with high-quality material and high production capability, Chun Yu ensures each client's needs are met.