Model No.: Snowflakes Christmas BOPP Flower Sleeves for bouquet flower and plants
Snowflakes Christams BOPP Flower Sleeves
Snowflakes Christams BOPP Flower Sleeves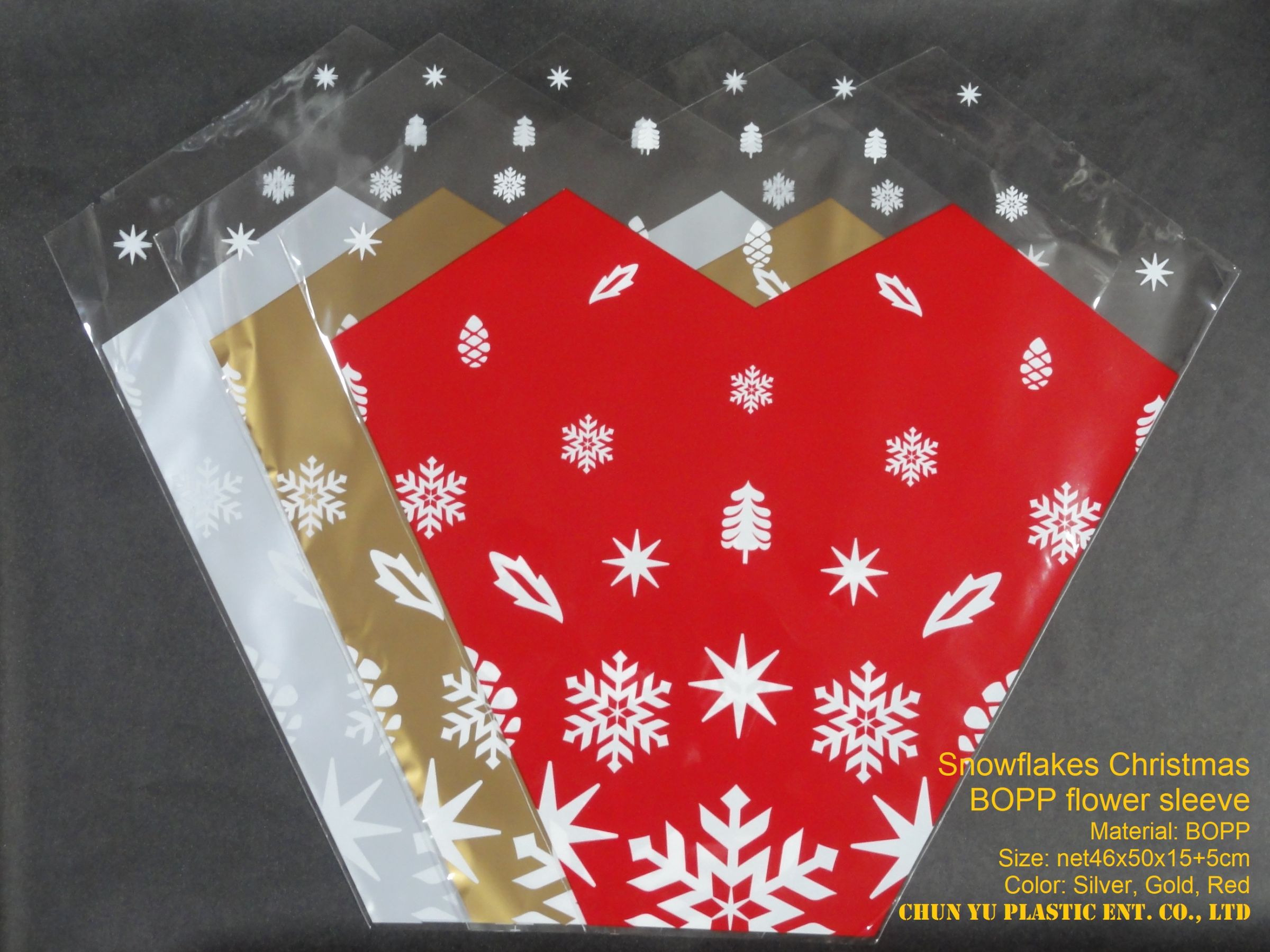 Chun Yu Plastic manufactures design printed BOPP flower sleeves for bouquets in many shapes and colors suitable for Everyday, Valentines, Christmas and special events.

Here is Snowflakes BOPP flower sleeve, a crystal transparency and low static quality film available in merry colors for Christmas season Chun Yu Plastic produces for customers.

Chun Yu Plastic is capable to print BOPP flower sleeves with customer's own logo, design and colors, sizes, thickness and extra treatments like special top cut shape, vent holes, air holes, micro-perforation holes, mini holes, watering holes and bottom seal.

Enquiries with specifications are welcomed.
Best Sale
Snowflakes Christams BOPP Flower Sleeves | Gift Wrapping Paper Supplier - Chun Yu Plastic Enterprise Co., Ltd.
Located in Taiwan since 1996, Chun Yu Plastic Enterprise Co., Ltd. is a Snowflakes Christams BOPP Flower Sleeves supplier. Main products, including Gift Wrapping Paper, Flower Wrapping, Wrapping and Bouquet Sleeves. Gift and flower wrapping paper with top cut, air holes, vent-holes, hot-needles, micro-punch, bottom seal, name, logo and color and so forth.
FSC certified, trendy, and innovative wrapping paper including, wrapping papers and BOPP film bouquet sleev, name for Christmas, kids birthday, gift wrapping and packaging. High transparent BOPP films for all wrapping purpose with a wide range of color selections and mass production. They also supply inexpensive and strong wrapping paper that is primarily used for packaging purposes.
Chun Yu has been delivering gift wrapping paper and BOPP film in plastic packaging industry since 1996, both with high-quality material and high production capability, Chun Yu ensures each client's needs are met.