El papel certificado FSC proviene de bosques con manejo responsable
Chun Yu Plastic has obtained certificates of FSC™- and SMETA as endorsements as a go green and social responsible manufacturer of Christmas Children Birthday and other types of gift wrapping paper.
 
FSC™-certified stamps principles Chun Yu Plastic carries while manufacturing wrapping paper harvested from sustainably managed forests
 
Our actions with environmentally appropriate, socially beneficial, and economically viable management of forests around the world.
 
Our compliance with laws regarding wages, welfare, safety and working environment of employees'.
 
What is SEMTA?
https://www.sedex.com/our-services/smeta-audit/
 
SEMTA certified stamps standards regarding people rights, employment conditions, employees' welfare such as salary, working hours, environment, safety and health all Chun Yu Plastic carries while producing giftwrap for customers on the planet. SEMTA report is available upon request.
Sustainability & Environmentally Friendly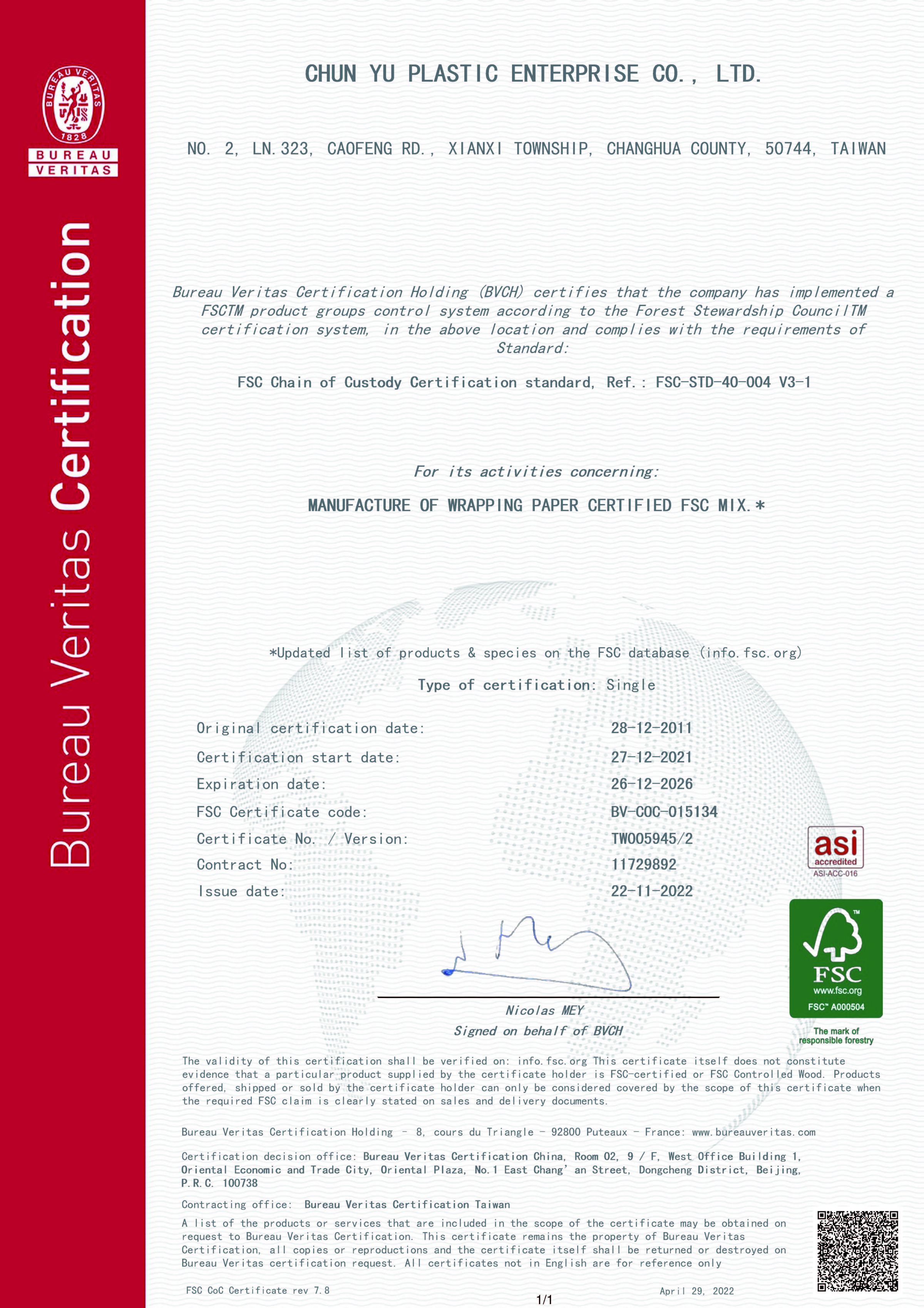 FSC certified (FSC™ C108999). Capable to supply gift wrapping paper made of FSC™-certified and other controlled material.
mejor venta
Supplier of Premium Quality Gift Wrapping Paper - Chun Yu Plastic Enterprise Co., Ltd.
Located in Taiwan since 1996, Chun Yu Plastic Enterprise Co., Ltd. is a global gift wrapping and flower wrapping paper supplier. Main products, including Gift Wrapping Paper, Flower Wrapping, Wrapping and Bouquet Sleeves. Gift and flower wrapping paper with top cut, air holes, vent-holes, hot-needles, micro-punch, bottom seal, name, logo and color and so forth.
FSC certified, trendy, and innovative wrapping paper including, wrapping papers and BOPP film bouquet sleev, name for Christmas, kids birthday, gift wrapping and packaging. High transparent BOPP films for all wrapping purpose with a wide range of color selections and mass production. They also supply inexpensive and strong wrapping paper that is primarily used for packaging purposes.
Chun Yu has been delivering gift wrapping paper and BOPP film in plastic packaging industry since 1996, both with high-quality material and high production capability, Chun Yu ensures each client's needs are met.